Three years ago I was a mess. I knew I was going to Homeschool Peanut, but I had no idea were to even start. I went online and was overwhelmed with everything. Then I found a few sites on the basics.
The first thing I learned is that I needed a "roadmap" of what we'll be doing. But like any journey, don't be tied to the exact route. Be prepared for detours, tourist attractions, and even having to retrace your route if things get crazy! Schedules aren't set in stone. Let them be as flexible as your lifestyle. In other words, your schedule doesn't rule you, you are the master of your schedule!
So I chose to use several free resources to teach Peanut the basics. We used Easy Peasy Getting Ready 1, 3 Dinosaurs, This Reading Mama, and I also bought the Pre-k program from Confessions of a Homeschooler.
Now that I had this mountain of printed worksheets, I had no idea how to organize it all. Along came the file folder method! (not my photo)
Each of our 36 weeks gets it's own file folder. Every workbook was cut apart and separated into the file folders. Each worksheet too. So now I had a full school year all neatly separated into weekly "grab and go" files! Yay me!
But now I had to figure out what to do each day. I like the weekly folders, so why not daily folders? I took the work out of the weekly one and divided it up into a daily folder. Since we only homeschool Monday to Thursday, Friday became the "overflow" for anything we didn't get done in the week. It never ended up getting used! (again, not my photo)
Our second year taught me to use a 'workbox' system. This system uses a storage cart with 10 drawers and you organize your child's day by putting only one subject per drawer in the cart. When the child finishes one drawer, they move to the next one.  There are tons of Youtube videos about homeschool workboxes, so I won't go into it here.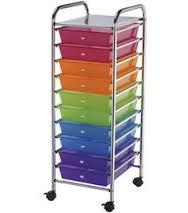 It worked well, but it became a pain to load the cart up each night for the next day's lessons. But it did keep us organized!
Also, that year I learned about a weekly checklist instead of a daily schedule thanks to our Timberdoodle curriculum. You take the # of pages in the book, divide by 36, and you get the # of pages to do per week.  As long as all the boxes were checked off at the end of the week, it didn't matter when they got done. This really was an eye opener, and total game changer! We suddenly weren't tied to doing "x" amount of pages per day. We could do double the math one day and then do none the next day.  I no longer got anxious when we didn't do something on the schedule. I just bumped it to the next day.
For our third year of homeschool, our schedule changed again. We used the Moving Beyond the Page curriculum last year. We still used the 36 weekly file folders, but our workboxes became one box = 1 day instead. So Drawers 1 – 4 were labelled Monday-Thursday. Drawer 5-10 then became our storage for our book of the week, craft supplies, ongoing projects, and things like flashcards, paper, etc. It worked really well.
This year we are using our own curriculum that I pieced together from several places. I still use the "Timberdoodle" method to figure out how much we need to do per week to finish in a year. We still use the 36 week file folders, and the one workbox per day system. Instead of my old method of writing out each week's schedule by hand, I now use a printable, editable planner from One Stop Teacher Shop. I absolutely LOVE this planner. I can set out my entire year on it, and edit it on the fly. I only print out the schedule for the next 4 weeks, since things change and sometimes I have to fiddle around with the schedule to make it work.
One thing about Homeschooling, you never stop learning. Not only am I educating Peanut, but I'm also learning things too! I'm becoming really good at scheduling (but not so good about sticking to the schedule, hahaha!) and I'm definitely learning how to get more organized, at least for homeschool stuff. My kitchen is another story, hahaha!
So till next time, I hope this gave you some ideas for homeschool scheduling and planning!