I may need help! I love journals, planners, diaries. There is something about the possibilities in the blank pages, and the feeling of accomplishment when looking through the written pages already done. I love the illusion that my life is in some sort of order!
I have a planner for Peanut's tentative homeschool lessons that I plan out every week, another for his accomplished lessons that I record daily after we do them. Why two you may ask? Because what I plan to do, and what we actually accomplish are two different things! For instance, this week was Peanut's 6th birthday, so we took the day off. I had planned to make up the lost day on Friday. Well, my root canal that was scheduled for 3:30 pm yesterday was bumped up to 11 am. This meant that we lost another day of school! I'll try to cram 3 days of work into 2 days, but in the end, we may be doing a couple of subjects on the weekend. If I had used only one planner, there would be lots of erasing or white out, and that would drive my perfectionism into high gear. I'd hate the planner, hate the mess, hate the reminder that I couldn't do what I set out to do when I wanted to do it!
I also have a planner for myself, where I keep track of life events, meals, daily chores, and even keep track of my hydration (yep, I do try to get at least 5 glasses of water a day, tea counts though!).
In the photo at the top is the beginnings of my mini personal planner. Sometimes I have to make my own planners because this island is pretty limited in what is available, and shipping one in costs more than the planner itself! I've made four so far, three full sized – one is actually Peanut's tentative lesson planner, and one half size. I print out the year's worth of pages, cut them if needed, punch a ton of holes down the side, and bind it with the spiral binder from previously used spiral notebooks that would otherwise be thrown away. Necessity is the mother of invention! hahaha
I have another planner for the house. It has a cleaning schedule, to do lists, menu planning, bill tracker, medicine tracker, pet tracker, seasonal cleaning, repairs, and all the wonderful stuff that is included with taking care of a home and a car. I don't use it as much, maybe once or twice a month, but it's come in handy.
Then there is my journal. It's a place for all my "too afraid to say out loud" stuff. My dreams, my desires, my fears, my failures and accomplishments. I tend to go in spurts writing in it. My current one is a small, spiral bound lined notebook, and I hate it! I'm a lefty, so it's very hard to write on the right side pages, and the smallness of it doesn't go well with the normal sized writing lines. I tend to use them as a guide, but will write two lines in one of the line spaces (hope this makes sense!) so it looks messy. I don't like messy!
And last, but not least, is my writing journal. I use a full sized binder for this one. I don't like the loose leaf paper though, it's too thin and reminds me too much of grade school, so I print my own lined paper to use. In this one I try to write every day. I use writing prompts if nothing comes to mind. Why a writing journal? Because I love the written word. I love how thoughts can flow, meld together and actually create emotions just by writing and reading them! I've always wanted to be an author, to write an amazing book, but in my heart I know for so many, many reasons I never will. I'm not important enough, I don't have anything new to say. But I do like to write. So the writing journal fulfills my love of writing, even if it's just for me (and the occasional peek from Hubby!)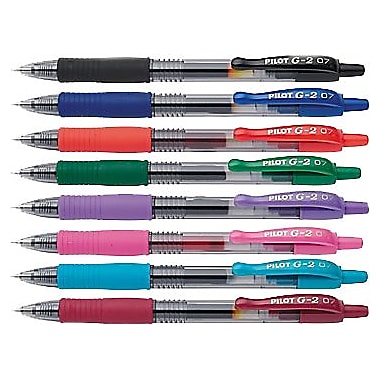 Oh and I almost forgot, I'm also on a quest for the perfect pen, pencils, colored pencils, markers… I write very tiny, so I love a very fine pen, but haven't found the perfect one yet. I've tried ink, gels, even fountain pens. I like ink best, and there are a few gel pens that are acceptable. I like these Pilot gel pens, but I am still looking for extra fine ones!
Sometimes I really miss Walmart and Staples for all the easy access to supplies. But there is something to be said for being able to write "we went to the beach today, it's snowing back home, but here it's 36 degrees and not a cloud in the sky. Water lapping at my toes, and Peanut is happily splashing in the waves as they wash over his feet. Hubby relaxing with a smile on his face, not a care in the world. Island life at it's best!" If this means sacrificing a shopping spree at a department store, I'm all for it.