In my previous post I wrote about how we handle spelling since Peanut can't write yet. This doesn't mean I'm not teaching him how, it just means I choose what he writes, and I don't give him more work than he can handle.
In a perfect world, I'd be using Handwriting Without Tears, but it's not a perfect world. Maybe next year I'll figure out a way to get it without paying almost double the cost of the book to ship it here, but for now Timberdoodle only offers two options. I could go with A Reason For Handwriting, a religious based handwriting program that is excellent, but it is religious, or I could use Getty & Dubay Italic Handwriting, a secular and gentle introduction to handwriting.
We went with the Italic Handwriting. I'm not completely thrilled with it, but it's 'okay'. Not that I have a problem with religion, but in my mind and my homeschool, I want a more secular and scientific base, religious beliefs can come later once the solid foundation is built.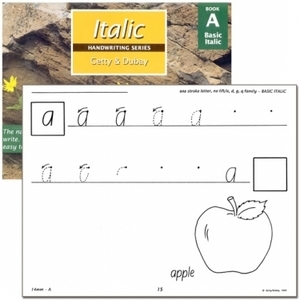 I like that the letters are one stroke as much as possible, and it does make for nice looking letters. Here is the full alphabet done it the Getty & Dubay style:
Isn't it pretty? And I love that it's close enough to cursive that the transition won't be difficult at all!
But the book is 72 pages, and this means Peanut does 2 pages a week to keep a good pace. This means he doesn't really get too much practice. In a way this is good, he really can't do more than maybe 10 – 20 letters a day before his hand is too tired. But since I want him to get a bit more practice, we also added Scholastic Instant Practice Packets.
Each letter has 4 pages worth of practice. We never do the whole page, it would be too much for Peanut right now. He'd probably run away and hide from me if I did make him do it all! I have him write one line from a page, one word from another, and do the 'best' letter he can in the box. We also use the top ABC border to practice our ABC song, probably his favorite thing about this whole handwriting thing.
Taking a cue from Handwriting Without Tears, we also use a small chalkboard to practice writing the letter of the day.
And last, but not least, I also try to pull out the dry erase markers twice a week and let him write HUGE letters on the whiteboard. He does much better with this, and it gives him a sense of accomplishment. It's also giving me muscles since we haven't hung it on the wall yet so I have to carry it from the bedroom to the desk in the living room. This is why we don't do it every day. Yep, I'm lazy!  But he gets to write the letter nice and Big. "Look mommy, an S. Oh, and look mom, it's now a monster… on wheels… breathing fire… in lava… eating rocks…"  bwahaha I love homeschooling a creative kid!
I also use the handwriting worksheets from The Measured Mom. I swear if I ever met her in person I'd give her a big hug, some coffee, and a box of chocolates. She puts out awesome resources, and doesn't charge a penny for them! How amazing is that?
These are the ones we use right now, once a day. Peanut likes the challenge of writing the smallest letter on the page! We usually do the uppercase one day, lowercase the next:
So each day Peanut has plenty of handwriting practice. His letters may not be pretty, may not even be legible, but I don't care right now. He's trying. He's getting the motions down, and he's kind of enjoying it too!